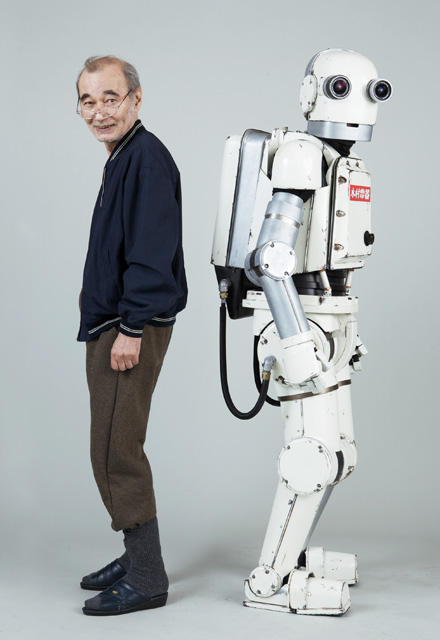 The latest project from director Yaguchi Shinobu ("Happy Flight," "Water Boys") is "Robo-G," a story about a stubborn old man and a robot. The main character will be played by 72-year-old Mickey Curtis, who is using a new stage name: Igarashi Shinjiro. He earned the part through an audition of more than 200 actors.
Yaguchi reportedly began planning for "Robo-G" about five years ago, ever since he witnessed Honda's P2 humanoid robot in action. The story revolves around a team of three at a small electronics maker, who receive an order from the company president to develop a robot for the purpose of getting the company more exposure. However, one week before their planned announcement at a robotics expo, their robot gets destroyed, so in order to save face they decide to take the stage with an old man in a robot suit. Unexpectedly, their "robot" receives huge acclaim and fame.
Yoshitaka Yuriko will play the movie's heroine, a college student obsessed with robots. The robot development team will be played by Hamada Gaku, Kawai Shogo (of comedy duo W-Enjin), and Kawashima Junya. Other cast members include Tabata Tomoko, Wakui Emi, and Ono Takehiko.
"Robo-G" will open in theaters around the start of 2012.
Source:
Eiga.com
Related links:
Official website