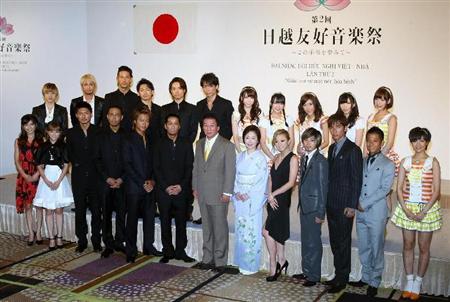 A press conference was held at the Shinagawa Prince Hotel on Wednesday to announce the 2nd Japan-Vietnam Friendship Music Festival, set to take place in Hanoi on October 9, 2011. The lineup will feature AAA, AKB48, EXILE, w-inds., Koda Kumi, Godai Natsuko, and Sugi Ryotaro.
The 1st Japan-Vietnam Friendship Music Festival was held three years ago in 2008. This time, the festival will be held at the historic Hanoi Opera House, which is celebrating its 100th birthday.
After the Tohoku earthquake in March, the Vietnamese government donated 200,000 dong (approximately 16 million yen), 50,000 underwear, and many other items. This festival is being held partly as a gesture of repayment for Vietnam's generosity, and it is said that the artists will be participating without a guaranteed fee. There are also plans to set up a Japan-Vietnam Medical Treatment Exchange fund in conjunction with the festival.
Sources:
Sankei Sports
Sports Hochi