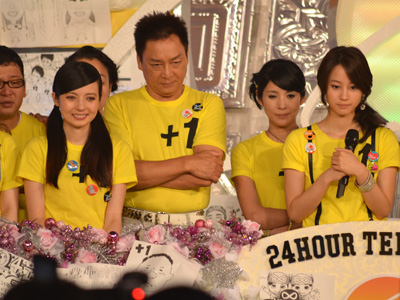 NTV's 34th annual "24 Hour Television" charity program ended successfully on Sunday night. During the show's broadcast, which officially ran from 6:30pm on August 20 to 8:54pm on August 21, a total of 243,091,607 yen was raised for charity.
This year's hosts were announcers Hatori Shinichi and Nishio Yukari, with boy band Kanjani8 as the main personalities and actress Horikita Maki as the main charity personality. The members of Kanjani8 also appeared in this year's drama special, titled "Ikiteru Dake de Nankurunaisa."
The marathon runner this year was announcer Tokumitsu Kazuo, who became the oldest runner in the show's history at 70 years old. He ran a total of 63.2 kilometers.
"24 Hour Television" officially began its fundraising activities for this year's show on June 30 and will continue collecting donations until August 28. Last year, a total of 974 million yen was raised.
Source:
Cinema Today