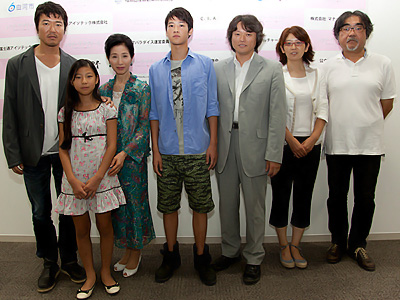 A press conference was held last week to announce production for the movie "Totecheeta Chiquitita," which will be shot in the Fukushima prefecture later this year. It was revealed that the film will star Toyohara Kosuke, Matsubara Chieko, Hayama Shono, and new actress Jurina.
"Totecheeta Chiquitita" has been in development since 2008 as the Fukushima Film Project, led by producer Kokatsu Tatsuko who was born and raised in Fukushima. Casting and preparations had started in February 2011 with support from local organizations, but the massive Tohoku earthquake in March forced the original plans to be suspended. However, Kokatsu said that she heard from many people in Fukushima who still want to see the film made in order to revive the region's image, so the project is being continued with some changes.
The movie will still be shot in Fukushima, reflecting the region's current conditions and hopefully dispelling the negative images people may have of the area.
The story revolves around Yuriko, a survivor of the Tokyo air raids in 1945 who is now a 70-year-old retired teacher. The family members she lost during the air raids have been reborn into the present with different lives. Her mother is now a bizarre young girl (Jurina), her father is a "slightly depressed high school boy" (Hayama), and her brother is a "middle-aged loser on the verge of bankruptcy" (Toyohara). They all reunite in Fukushima, where Yuriko now lives alone.
"Totecheeta Chiquitita" takes its title from a line in the children's song "Omocha no Cha Cha Cha" and from the ABBA song "Chiquitita."
Filming starts on October 8 and is expected to finish in November. The movie is planned to premiere first in Fukushima next March, followed by screenings in independent theaters around the country.
Sources:
Cinema Today
Official website