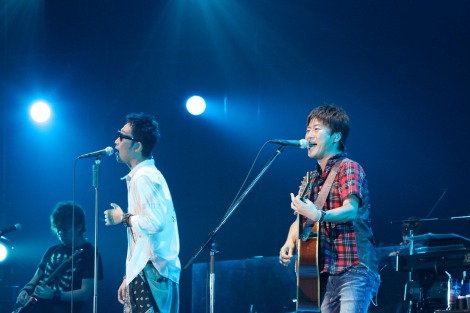 Pop duo Kobukuro is currently on tour, and on Sunday night they held the tour's final concert at the Makomanai Sekisui Heim Ice Arena in Hokkaido. During the show, they announced that they plan to take a break from their musical activities for about half a year.
Vocalist and guitarist Kobuchi Kentaro has been suffering from dystonia, a disorder of the nervous system, in his neck since the end of last year. As a result, it has become difficult for him to sing high notes. Meanwhile, Kuroda Shunsuke has been suffering from chronic back pain and problems with his throat due to fatigue.
The duo was told that they have to take time off to physically recover, so they decided to suspend their activities for the time being. They plan to resume activities in about half a year, if things go well.
As a result of their hiatus, they are also cancelling their Fan Festa 2011 live event, which was scheduled to be held in Wakayama on November 5.