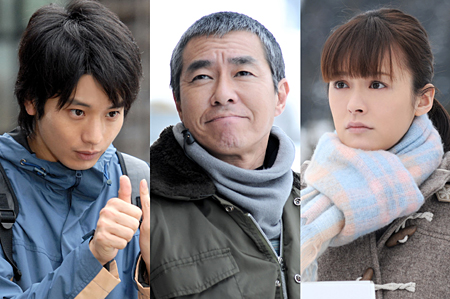 The Mainichi Broadcasting System (MBS) is continuing to celebrate its 60th anniversary with a television drama special called "Hanayome no Chichi" ("Father of the Bride"). Yanagiba Toshiro (50) will star as the awkward but sincere father, and Kanjiya Shihori (25) and Osamu Mukai (29) will play the daughter and son-in-law, respectively.
The story is set against the beautiful scenery of Yamakoshi, Niigata, which is also known for bullfighting. Yanagiba plays a man named Satoshi who raises fighting bulls, while Kanjiya plays his deaf and mute daughter Mio. Osamu plays her fiance Maru, a charming young man from the lower part of town.
The supporting cast features Hashizume Isao as a loud but kind grandfather, and Yo Kimiko as a woman who secretly has feelings for Satoshi.
The screenplay is written by veteran writer Izawa Man. The drama is planned to air nationwide on the TBS-MBS network this winter.
Source:
Mantan Web