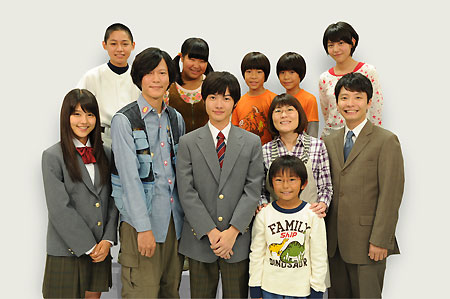 Actor Kamiki Ryunosuke (18) will be the star of a drama series for the first time since "Tantei Gakuen Q" in 2007. This time, he will play a working student supporting his family in a story written by popular screenwriter Kudo Kankuro ("Tiger and Dragon," "Kisarazu Cat's Eye").
Titled "11 Nin mo Iru!," the drama is a heartrending but comedic story about a family consisting of a jobless father, a domestic mother, and eight children with different personalities. As the title suggests, the family also has a mysterious "11th member."
Kamiki plays the eldest son Kazuo, a high school student who helps support the family through part time jobs serving at a gas station and doing newspaper delivery. He clashes with his father (Tanabe Seiichi), an artsy photographer with no real earning power. Mitsuura Yasuko plays the part of an obedient wife, while Kato Seishiro plays the shy youngest child who can see a ghost (the "11th member") but doesn't tell the rest of the family.
It is also reported that Hoshino Gen, the guitarist of the band SAKEROCK, will have a regularly appearing role as the younger brother of Tanabe Seiichi.
The show will air on TV Asahi on Friday nights at 11:15pm, starting in October.
Sources:
Mantan Web
Natalie