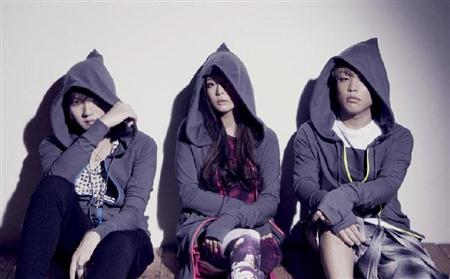 Actress and singer Shibasaki Kou (30) has formed a new musical unit called galaxias!, consisting of herself, guitarist DECO*27, and music producer/DJ TeddyLoid. The trio will release their first mini-album (currently untitled) this November.
The 24-year-old DECO*27 got his start through the video site Nico Nico Douga a few years ago, and he achieved the most watched video on that site with more than 15 million views. Last year, Shibasaki was introduced to DECO*27 through her staff, with plans for her to write some lyrics for his album. They ended up working together on Shibasaki's single "Mukei Spirit" which was released in February of this year.
TeddyLoid, who created a popular remix of "Mukei Spirit," is joining them as the group's DJ and sound producer. Currently 22, TeddyLoid started out as a solo act in 2008 when he was just 18 years old, and at the time he was chosen to be the main DJ for Miyavi's world tour. He has expanded his career since then, even providing music for the Gainax-produced anime series "Panty & Stocking with Garterbelt."
galaxias! is described as having an electro sound, blending rock and dance music. The three artists were working on the album over the past few months, even while Shibasaki was in London for the filming of the "47 Ronin" movie.
The new group is said to not be temporary, but at this point there are no definite plans for how long the group will continue.
Source:
Sankei Sports