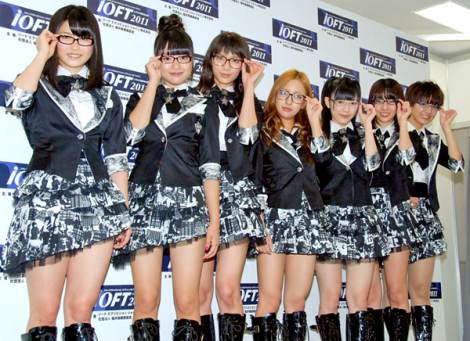 The 24th Megane Best Dresser Awards, given annually to recognize celebrities who look good in glasses, were handed out Tuesday at the Tokyo Big Sight. AKB48 received the special prize as the celebrities whom people would like to see wearing glasses. Akimoto Sayaka, Itano Tomomi, Kitahara Rie, Fujie Reina, Miyazawa Sae, Yokayama Yui, and Watanabe Mayu were selected as the "Megane senbatsu members" to receive the award. Kasai Tomomi was also chosen but could not attend the ceremony due to health reasons.
AKB48 producer Akimoto Yasushi also received a Megane Best Dresser Award back in 2001 in the culture category.
Other winners this year included Tsuchiya Anna in the sunglasses category, former Fuji TV announcer Takashima Aya in the culture category, actor Mizutani Yutaka in the entertainment category, and pro soccer play Miura Kazuyoshi in the sports category.
Source:
Oricon