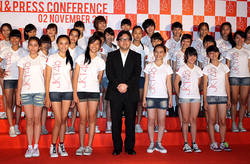 JKT48, the Indonesian sister group of AKB48, finished the final round of its 1st audition, and the resulting 28 members were revealed that same day. The members range in age from 13 to 21 and include a Japanese girl named Rena Nozawa who lives in Indonesia.
The 28 inaugural members will begin taking lessons, and 16 of them will later be chosen to form the group's first team, Team J. The group's theater is currently being prepared and is expected to be ready in April 2012. JKT48 will make their theater debut that spring.
Although the group currently has no plans to be active in Japan, a representative stated that depending on how their activities go, they may consider holding events in Japan.
The group's members were revealed on the official JKT48 website:
Allisa Astri
Allisa Galliomova
Ayana Shahab
Beby Chaesara Anadila
Cindy Gulla
Cleopatra
Delima Rizky
Devi Kinal Putri
Diasta Priswarini
Fahira
Frieska Anastasia Laksani
Gabriela Margareth Warouw
Siti Gayatri
Ghaida Farisya
Intania Pratama Ilham
Jessica Vania Widjaja
Jessica Veranda Hardja
Melody Nurramdhani Laksani
Nabilah Ratna Ayu Azalia
Neneng Rosediana
Rena Nozawa
Rezky Wiranti Dhike
Rica Leyona
Sendy Ariani
Shania Juniantha
Sonia Natalia
Sonya Pandarwaman
Stella Cornelia
Sources:
Sponichi Annex
Mainichi Shimbun