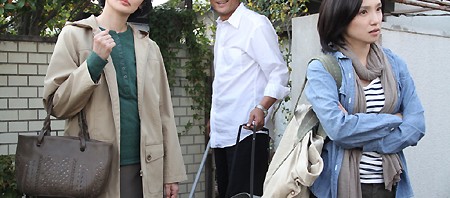 Actor Watanabe Ken (52) and actress Minami Kaho (47) will appear together in a TV Asahi drama special next month, titled "Ai Inochi ~Shinjuku Kabukicho Kakekomidera~." This is their first time acting together since they got married in 2005.
The drama is set in Shinjuku's Kabukicho district and is inspired by Gen Hidemori, who runs the Japan Social Minority Center, an NPO rescue center in Kabukicho that has served more than 10,000 people in trouble in its 9 years of operation.
Watanabe's character Hirayama Hidemori, modeled after Gen, was living only in pursuit of money until he learned that he was infected with the HTLV-1 virus, which has been identified as a potential cause of leukemia. As a result, he turns his life around and begins doing volunteer work to help the weak.
Minami plays his wife, who has been living separately from him in Kobe with their children ever since he became burdened with debt from his previous business. Nagasaku Hiromi plays a freelance journalist who is researching Hidemori for a story.
Other cast members include Fubuki Jun, Ogata Naoto, Katase Rino, Ichige Yoshie, Yamamoto Gaku, and Ibu Masato.
Watanabe commented that he and Minami did not discuss their parts with each other. He laughingly remarked, "It was my first experience having two people in the same house reading the same script, and passing the time while separately thinking about our roles. It was a strange feeling."
"Ai Inochi ~Shinjuku Kabukicho Kakekomidera~" will air sometime in December.
Source:
Mantan Web