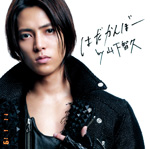 Former NEWS member Yamashita Tomohisa (26) will star in a TBS drama series this winter. This is his first work since he and Nishikido Ryo (27) left the group last month.
The drama, titled "Saikou no Jinsei no Owarikata ~Ending Planner~," has Yamashita playing the head of a funeral service shop that deals with bodies brought in by the police, including suicide and murder victims. He reluctantly inherited the shop after his father passed away, but as he learns about the lives of the various deceased people that are brought to him, he begins to mature. Another highlight of the story is his romance with a rookie female detective, though the actress for the part has not yet been announced.
Screenwriter Watanabe Chiho ("Namae wo Nakushita Megami") is in charge of the script.
Shooting is scheduled to begin in early December. TBS will broadcast "Saikou no Jinsei no Owarikata" on Thursday nights at 9:00pm, starting in January.
Sources:
Sankei Sports
Sports Hochi