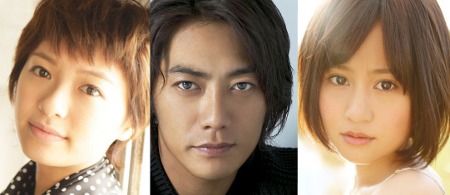 More cast members have been revealed for Yamashita Tomohisa's next drama series "Saikou no Jinsei no Owarikata ~Ending Planner~." Eikura Nana will play the heroine of the story, while Yamashita's siblings will be played by Sorimachi Takashi, Maeda Atsuko (AKB48), model Ono Ito, and Chinen Yuri (Hey! Say! JUMP).
"Saikou no Jinsei no Owarikata" stars Yamashita as a young man who inherits his father's funeral service shop. The story is a human drama about his growth as he deals with the various bodies that are brought to him.
Eikura plays a rookie police detective who will be the main female character. She last worked with Yamashita in the drama series "Proposal Daisakusen" in 2007.
Other cast members includes Otomo Kohei and Yamazaki Tsutomu.
The series begins on January 12 and will air on Thursday nights at 9:00pm on TBS.
Source:
Oricon