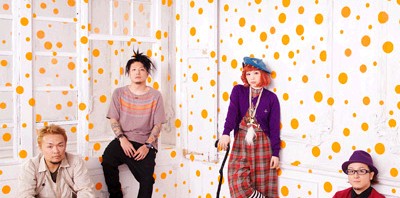 Rock band SHAKALABBITS announced on their official website today that bassist KING has left the group. His last performance with the band was on November 20 at Utsunomiya University's school festival.
KING has been a member of SHAKALABBITS since their formation 13 years ago. The band stated that they will continue their activities with a new bassist.
In KING's message to the band's fans, he explained that he has become unable to generate new music on his bass for several years, and he has come to rely on ideas from the rest of the band. He said that he realized that he has become empty, and his situation has gradually started to affect the band's live performances. He also revealed that he is forgetting songs and losing his passion, making it painful for him to perform. After years of being encouraged by the other members, he decided that he can no longer continue.
KING acknowledged that he should have announced his departure directly to the fans during one of SHAKALABBITS' concerts, but he has lost his confidence to continue until the band's next tour.
SHAKALABBITS is currently scheduled to perform at Countdown Japan on December 29.
Source:
Barks