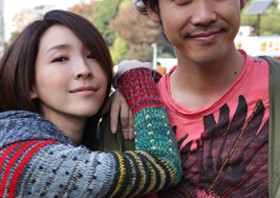 A movie adaptation of Yoshikawa Toriko's novel "Good Morning Everyone!" is in the works, co-starring actress Aso Kumiko (33) and actor Oizumi Yo (38). Filming took place between November 12 and 28, despite Aso being five months pregnant at the time.
The movie tells the story of a complicated family of three. Aso plays the part of Aki, a former punk band guitarist, while Oizumi plays the part of Yagu, who was the vocalist of that same band. They live together as a family with their 15-year-old daughter Hatsuki, played by Miyoshi Ayaka. Although they get along well, Aki and Yagu are still unmarried, and Yagu actually has no blood relation to Hatsuki.
The film will contain scenes of Aki and Yagu performing in their band. Aso had to specially train for the guitar for about a month.
"Good Morning Everyone!" is directed by Yamamoto Toru ("Kizumomo"). Release is planned for sometime in 2012.
Sources:
Sports Hochi
Cinema Today