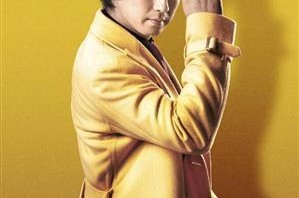 Before the Fuji TV drama series "Lucky Seven"  premieres on January 16, the cable channel Fuji TV TWO will broadcast a spin-off drama on January 14, titled "Shiritsu Tantei Makabe Ryu." Although Arashi's Matsumoto Jun (28) is the star of the actual series, the spin-off will star Tanihara Shosuke (39).
As announced before, "Lucky Seven" is an action/comedy series about a team of private detectives who solve various difficult cases despite their lack of smooth teamwork. In the series, "Shiritsu Tantei Makabe Ryu" is a TV detective drama that the characters love to watch. Matsumoto's character, Tokita Shuntaro, has admired Makabe Ryu since he was a child, and even in his actual detective work he imitates Makabe's signature line and pose.
In the world of "Lucky Seven," the "Makabe Ryu" series is described as a "hard-boiled comedy" about a private eye with a trademark yellow hat and trench coat, who solves the world's toughest unsolved cases and has even earned the respect of the American intelligence agency CIA.
The spin-off consists of 4 original stories. Fuji TV TWO will broadcast "Shiritsu Tantei Makabe Ryu" on January 14 at 12:30pm.
Source:
Sankei Sports