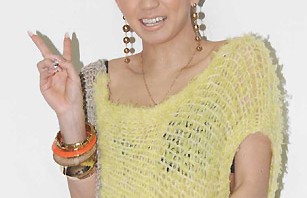 Singer Koda Kumi (29) has confirmed rumors that she is currently pregnant. A few days ago, after she suddenly announced that she is getting married to BACK-ON's KENJI03, there was much speculation that she was with child, though that was initially denied. However, she decided to directly inform her fans of her pregnancy during a special mini-concert on Friday night.
She told the audience that she is currently in her 8th week of pregnancy, which means that she is not yet in the stable period. Because of that, she had wanted to wait until she entered the stable period before she officially announced the good news. But in order to clear up the confusion that spread among her fans, she chose to personally confirm the rumors.
Koda has several big performances coming up this month. She will appear on TV Asahi's Music Station Super Live on December 23, hold a Christmas concert at Yoyogi National Gymnasium on December 24, and participate in NHK's Kouhaku Uta Gassen on December 31.
Koda also has a national concert tour planned to start on April 14, 2012, but after learning about her pregnancy she stated that the tour will likely be canceled. However, she also said that she hopes to be able to hold a concert for her 30th birthday on November 13 of next year.
Sources:
Mantan Web
Sankei Sports