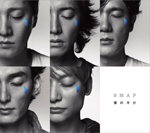 SMAP's 46th single, "Boku no Hanbun," ranked #1 this week on the sales charts, with more than 130,000 copies sold. This is their 13th consecutive #1 single, and their 24th overall. SMAP is also the current record holder of "most consecutive Top 10 singles since debut," and "Boku no Hanbun" extends that streak to 46.
SMAP is only the third group ever to achieve a #1 single 20 years after their debut. The other two groups are Southern All Stars, who last did it with "I AM YOUR SINGER" in 2008 (their 31st year), and B'z, who last did it with "Don't Wanna Lie" this year (their 23rd year).
SMAP – Boku no Hanbun – 130,190
L'Arc~en~Ciel – CHASE – 71,894
Acid Black Cherry – CRISIS – 52,055
Kis-My-Ft2 – We never give up! – 22,827
Amuro Namie – Sit! Stay! Wait! Down! / Love Story – 21,110
AKB48 – Ue Kara Mariko – 19,675
Alice Nine – Niji no Yuki – 15,067
Saito Kazuyoshi – Yasashiku Naritai – 13,473
Fairies – HERO / Sweet Jewel – 12,375
JUNO – believe… ~Kimi wo Shinjite~ – 9,783
In albums, FUNKY MONKEY BABYS ranked #1 with nearly 110,000 copies sold of their latest release, "FUNKY MONKEY BABYS 4."
However, Ketsumeishi had perhaps a more impressive showing on the charts by simultaneously releasing four best albums and taking the #2 through #5 spots, each with more than 50,000 copies sold. This sets a new all-time record for "most albums simultaneously in the Top 5," surpassing the previous record of 3 that was held by Inoue Yosui (1974), Ozaki Yutaka (1992), and TMN (1994).
Sources:
Oricon (weekly single ranking)
Oricon (weekly album ranking)
Oricon
Oricon