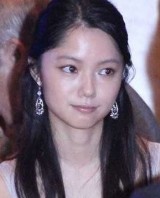 Actor Takaoka Sousuke (29) and actress Miyazaki Aoi (26) are now officially divorced. Miyazaki's agency announced the news on Wednesday, stating that the couple registered their divorce that same day.
Takaoka and Miyazaki got married in June 2007. Earlier this year, rumors of a likely divorce began spreading after Takaoka caused controversy with some Twitter remarks regarding the amount of Korean-related programming on Fuji TV. At the time, Takaoka was in New York for a stage play, but it has been reported that the two have been living separately ever since Takaoka returned to Japan in August.
Last week, Takaoka personally confirmed a report that he had already signed the divorce papers and given them to Miyazaki, and he expected the divorce to become official before the end of the year. Miyazaki had a movie award ceremony to attend on December 28, and she chose to wait until it was over before announcing the divorce.
Source:
Mantan Web