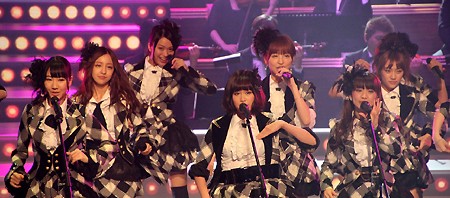 The 53rd Japan Record Awards were held on December 30. Although most of the award winners were announced last month, there were still two big awards to be revealed: the Japan Record Award, and the Best New Artist award.
The Japan Record Award is the event's biggest award, going to one of the 10 Best Song winners. This year, idol group AKB48 won for the first time. The members took the stage in tears to receive the award, then launched into a performance of their winning song, "Flying Get."
The Best New Artist award, chosen from the four New Artist winners, went to the group Fairies, who debuted with the single "More Kiss / Song For You" this past September.
Sources:
Mantan Web
Mantan Web