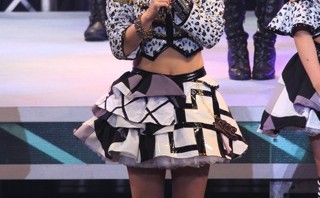 The opening day of Hello! Project's 2012 winter concerts was on January 2, and there it was announced that Morning Musume leader Niigaki Risa (23) will graduate from the group this spring, at the end of their next concert tour.
Niigaki has been a member of Morning Musume since August 2001, when she passed the 5th generation audition along with Takahashi Ai, Konno Asami, and Ogawa Makoto. She became the group's current leader last fall, after former leader Takahashi graduated from the group. Niigaki is the last of the fifth generation members to leave Morning Musume.
In her announcement, Niigaki explained that she began thinking about her graduation almost a year ago. She said that she considered leaving at the same time as Takahashi, but because of the introduction of the 10th generation members at the time, she decided to delay her departure.
Regarding her future plans, she stated that she hopes to improve her acting and take on more television drama and stage roles, and to try other things that she has not been able to do as part of a group.
Morning Musume's spring concert tour begins on February 18. The final performance is scheduled for May 13 in Osaka.
As a group, Morning Musume also announced that they will participate in the Dream Morning Musume special concert at the Nippon Budokan on March 10.