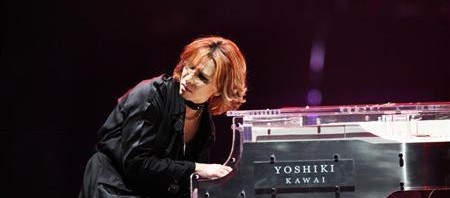 X Japan's Yoshiki has been chosen to compose the theme song for the 2012 Golden Globe Awards show, which will take place on January 15 in Beverly Hills, California. The Hollywood Foreign Press Association announced the news on Thursday.
In 2010, Yoshiki collaborated with American comic creator Stan Lee to create a "music superhero comic book series" based on Yoshiki. They both attended the Golden Globe Awards show in 2011, and according to the Sankei Sports newspaper, it was there that Yoshiki became close with the show's organizers. In November, the Hollywood Foreign Press Association gave Yoshiki an offer to compose the show's theme song.
The president of the Hollywood Foreign Press Association explained, "Yoshiki is a world-renowned musician and composer of enormous talent and versatility, who in addition to being a rock superstar has composed for film and television. As an international organization dedicated to creative achievements, the HFPA is delighted to have a global musical artist of Yoshiki's stature create the theme for the show."
Yoshiki has previously composed music for major events such as the commemoration ceremony of the tenth year of the Emperor of Japan's reign in 1999 and the World Expo in 2005.
Sources:
Anime News Network
Hollywood Foreign Press Association
Sankei Sports