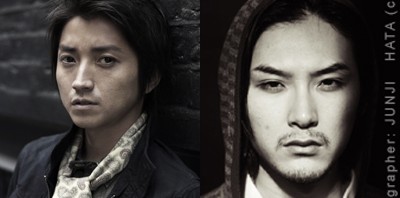 Director Toyoda Toshiaki ("Kuchu Teien," "Aoi Haru") is working on a new movie called "I'M FLASH." Actor Fujiwara Tatsuya (29) had long been hoping to work with Toyoda, and he finally got his chance this time with the starring role, paired with Matsuda Ryuhei (28).
The movie is an original script written by Toyoda. Fujiwara plays the part of Rui, the charismatic young leader of a rising religious organization called Life Is Beautiful, who has the attention of the mass media across the country. One day, he meets a mysterious woman, and he ends up in a car accident that leaves the woman in a vegetative state.
As a result, Rui goes into hiding on a deserted island, accompanied by an ex-yakuza bodyguard (Matsuda) and some other people. There, he decides that he will publicly reveal the truth behind the organization, putting his own life in danger.
The rest of the cast includes Itao Itsuji, Okusu Michiyo, Nakamura Tatsuya, Nagayama Kento, and Kitamura Yukiya. The movie was shot entirely in Okinawa under a nearly non-stop schedule.
"I'M FLASH" is scheduled for release in September 2012.
Sources:
Cinema Today
Chunichi Sports