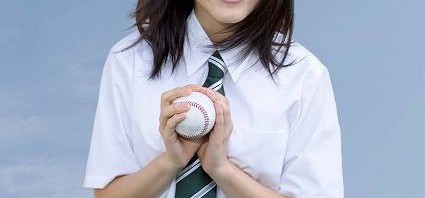 Actress Kawashima Umika (17), who is also a member of the idol group 9nine, will star in a drama special on NHK this spring. The show is titled "Akko to Bokura ga Ikita Natsu" and is based on a true story of a high school baseball team manager who died of cancer at the age of 17.
The story is based on the baseball team of Yoshikan High School in the Oita Prefecture. Their manager Osaki Akiko, known by the nickname "Akko," was diagnosed with advanced cancer in June 2007. That summer, they made their first appearance at the summer Koshien baseball tournament and made it into the top 8. In 2008, Akko became a third-year student, and she chose to stop her cancer treatment in order to spend her final summer of high school with the baseball team. However, she passed away that fall.
The story was released as a nonfiction book in 2011. In the drama adaptation, Kawashima plays Omiya Akiko, a character modeled after Akko. During her second year of high school, she finds out that she has pharyngeal cancer. She promises the team that she will return to the field after undergoing treatment, and they promise her that they will make it into the Koshien tournament.
Kawashima's supporting cast includes Yanagishita Tomo, Yamada Kenta, Kuroki Tatsuya, Ukaji Takashi, Omi Toshinori, Mitsuishi Ken, and Zenzen Naomi.
"Akko to Bokura ga Ikita Natsu" will be aired in two parts, on April 14 and April 21.
Sources:
Eiga.com
Sports Hochi
Mantan Web