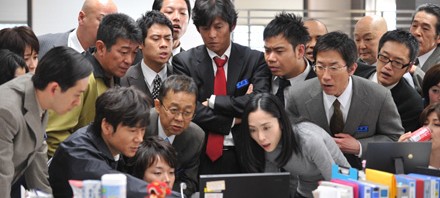 Just before the final "Odoru Daisousasen" movie opens in theaters this September, Fuji TV will broadcast a special drama episode. Not counting the franchise's spin-offs, this will be the first time in 14 years that the show has had a new television drama featuring the main cast.
Oda Yuji (44) will naturally star in the episode, accompanied by Fukatsu Eri, Yanagiba Toshiro, Yusuke Santamaria, Kitamura Soichiro, Ono Takehiko, and Saito Satoru. The episode will also include Ito Atsushi, Uchida Yuki, and Oguri Shun from the third "Odoru Daisousasen" movie.
"Odoru Daisousasen: The TV Special" takes place one month before the "Odoru Daisousasen: The Final" movie. The story involves a search for a female suspect who is internationally wanted for marriage fraud. The character is being played by Korean actress Lee Hae In (25), best known for the Korean television series "Roller Coaster." This will be her first time appearing in a Japanese drama.
The drama will air this September, sometime before the "Odoru Daisousasen: The Final" hits theaters. Filming for both is currently being done simultaneously.
Sources:
Eiga.com
Cinema Today