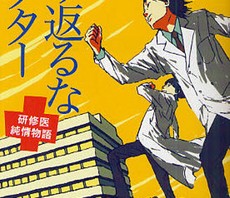 SMAP member Kusanagi Tsuyoshi (37) has been chosen to star in a Fuji TV drama series titled "37-sai de Isha ni Natta Boku ~Kenshui Junjo Monogatari~." The drama is based on the story of a man who changes jobs and becomes a doctor at the age of 37.
The model for the story is a doctor named Kawabuchi Keiichi (52). After graduating from Tokyo University, he spent some time making a living off of pachinko and worked various jobs before becoming a hikikomori (shut-in) for a year. At the age of 30, he decided to enter the medical school at Kyoto University, and he finally became an intern at a university hospital at the age of 37.
Kawabuchi wrote an essay-like novel about his experiences in 2002 that sold roughly 100,000 copies. His follow-up book, "Furikaeru na Doctor," was released in 2011 and is being used as the basis for the drama.
For Kusanagi, this will be his first time playing a doctor in a television drama. His character used to work at a food maker before he quit and entered medical school at the age of 30.
Fuji TV will broadcast the series on Tuesday nights at 10:00pm, starting this April.
Source:
Sankei Sports