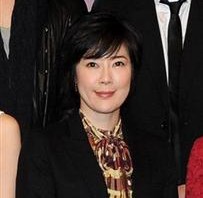 A few celebrities separately announced yesterday that they are expecting their first children. The most notable one was actress Terajima Shinobu (39), who appears to be around her third month of pregnancy. Because of her pregnancy, she has decided to withdraw from the stage play "Real Thing" (opening May 11), which she had been cast in with actor Karasawa Toshiaki (48).
Terajima has been married to French art director Laurent Ghnassia (44) since February 2007.
Meanwhile, Fuji TV announcer Endo Reiko (29) is in her fourth month of pregnancy. Endo is best known as a sportscaster on shows such as "Mezamashi TV." In August of last year, she married a man not in show business.
Former SDN48 member Ninomiya Yuka (22) revealed on her blog that she is seven months pregnant. Ninomiya entered SDN48 in May 2010, and she was the first person ever to join an AKB48-related group while already being married. She stayed with the group for about a year before leaving in May 2011.
Sources:
Sankei Sports
Sankei Sports
Nikkan Sports