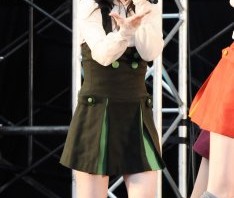 During SKE48's concert in Nagoya on Sunday, Team S member Ono Haruka (24) announced that she is graduating from the group. She stated that she had been considering leaving since about 1 or 2 years ago, and she finally decided to make the move. She will officially withdraw from SKE48 at the end of March.
Ono joined SKE48 in 2008 as part of the group's 1st generation and was later assigned to Team S. In November of last year, she finally became a "senbatsu" member for the group's 7th single, "Oki Doki."
Ono stated that she will "walk a separate path from SKE48," though she did not specify what her future plans are.
Source:
Natalie