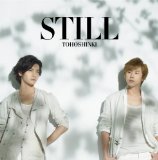 Tohoshinki claimed the #1 spot this week with their new single "STILL," with nearly 139,000 copies sold. With this, they are the first foreign artist in Oricon history to achieve 10 number-one singles. This is also their 26th single to enter the Top 10, setting a new record for a foreign artist (they were previously tied with BoA at 25).
In albums, SDN48's first and last album "NEXT ENCORE" sold just over 48,000 copies, giving them their first #1 (in singles or albums). They are only the third female group to reach #1 with their first album, after 2NE1 and AKB48 sub-unit no3b.
Meanwhile, EXILE's "EXILE LIVE TOUR 2011 TOWER OF WISH ~Negai no Tou~" topped both the DVD and Blu-ray general charts, selling 247,000 and 40,000 copies, respectively. The only other male artists who have simultaneously topped both charts are Mr.Children and RADWIMPS. This is also EXILE's 4th time to sell more than 200,000 copies of a music DVD in the first week, putting them in second behind Arashi's record of 5 times.
Sources:
Oricon (weekly single ranking)
Oricon (weekly album ranking)
Oricon
Oricon
Oricon