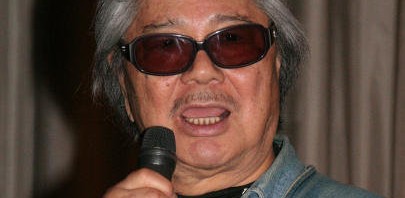 Japan lost one of its leading film directors on Wednesday night, as Wakamatsu Koji passed away at a hospital in Tokyo. He was 76. His death was the result of an unfortunate accident last week, in which he was hit by a taxi while crossing a street.
According to the Yotsuya police department, at around 10:10pm on October 12th, Wakamatsu was trying to cross a four-lane street in Shinjuku's Naitomachi district, at a point with no crosswalk. He was hit by a taxicab, suffering serious injuries to his head and waist.
UPDATE: Wakamatsu's studio has stated that some news reports are inaccurate. Wakamatsu had been unconscious the whole time since the accident.
At first, after he was taken to the hospital, he was still conscious and was able to call his daughter by phone to inform her of the accident. But two hours later, he lost consciousness and was transferred to an intensive care unit. On Tuesday, October 16th, Wakamatsu's agency made news of the accident public, though at the time a representative had stated that it was "not life-threatening."
Born on April 1st, 1936, Wakamatsu became a film director in 1963, getting his start in the Pink Film genre with the Nikkatsu studio. He established his own production company in 1965, and his independent films during that time, which generally contained political messages, were often controversial.
His Pink Film works included "Violated Angels" (Okasareta Hakui, 1967), based on the mass murders of several student nurses by Richard Speck in Chicago in 1966; "Go, Go, Second Time Virgin" (Yuke Yuke Nidome no Shojo, 1969); and "Ecstasy of the Angels" (Tenshi no Kokotsu, 1972). He also served as a producer for Oshima Nagisa's famous and controversial 1976 film "In the Realm of the Senses" (Ai no Korida), based on the gruesome Sada Abe incident of 1936.
Wakamatsu was considered one of the most important directors to come from the Pink Film genre, and more recently he was known for his award-winning films "United Red Army" (Rengo Sekigun, 2008) and "Caterpillar" (2010). Earlier this year, he released the film "11.25 Jiketsu no Hi: Mishima Yukio to Wakamonotachi," centered around the suicide of legendary writer Mishima Yukio in 1970. His final film was "Sennen no Yuraku," which was screened at the Venice Film Festival last month and is scheduled to open in Japan this fall.
Sources:
Eiga.com
Sports Hochi
Sankei Sports