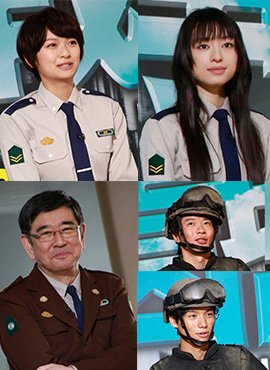 A few more cast members have been announced for the live-action "Toshokan Sensou" (Library Wars) movie, which was first revealed in August with V6 member Okada Junichi and actress Eikura Nana as the leads. Joining them are Kuriyama Chiaki, "Kamen Rider Fourze" star Fukushi Sota, Tanaka Kei, Ishizaka Koji, Hashimoto Jun, and Nishida Naomi.
"Toshokan Sensou" is a popular novel series by Arikawa Hiro that has also been adapted as a manga and an anime. The story is set in a future Japan where the government is trying to restrict freedom of expression by censoring "harmful" media, and a paramilitary organization known as the Library Defense Force has taken on the task of defending libraries against government censorship.
Okada is playing the movie's protagonist Dojo Atsushi, a member of the Library Defense Force, while Eikura is playing the heroine Kasahara Iku, a new recruit. Kuriyama has been cast as Kasahara's roommate and friend Shibasaki Asako. Fukushi and Tanaka are playing Tezuka Hikaru and Komaki Mikihisa, two other members of the Defense Force. Ishizaka and Hashimoto are playing captains within the force, while Nishida will play a reporter.
"Toshokan Sensou" is being directed by Sato Shinsuke ("GANTZ"). The film is scheduled to open in Japan on April 27, 2013.
Sources:
Cinema Today
Mantan Web