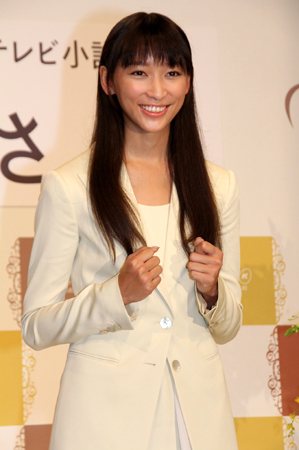 NHK has announced that Anne will star as the heroine of the 89th Asadora, which will be titled "Gochisou-san." Morishita Yoshiko ("JIN") is writing the screenplay.
This will be Anne's first time appearing in an Asadora, but she was reportedly offered the part without an audition. She has already appeared in many television dramas since making her acting debut in 2007, and last year she got her first starring role in Fuji TV's "Namae wo Nakushita Megami." Earlier this year, she played a supporting role in NTV's "Yokai Ningen Bem," for which she received an Elan D'Or Award and a Tokyo Drama Award.
The story will involve the themes of food and love. It begins during the Taisho period (1912-1926), where a young girl named Uno Meiko is raised in a family that runs a Western-style restaurant in Tokyo. As a result, she has grown up with a love for food. Later on, she meets a quirky man from Osaka and falls in love, and she ends up moving to Osaka as his wife.
Anne will play the part of Meiko from around the age of 17 to over the age of 40.
Filming is scheduled to start in May 2013. The series will air in the usual Asadora time slot (Mondays-Saturdays 8:00am-8:15am) for 150 episodes, starting on September 30, 2013.
Source:
Mantan Web