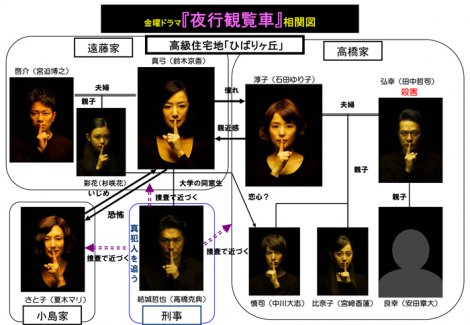 Earlier this month, actress Suzuki Kyoka (44) was named as the lead for the TBS drama series "Yakou Kanransha" (based on the Minato Kanae novel of the same name). TBS has now revealed the show's main supporting cast, including actress Ishida Yuriko and Kanjani8 member Yasuda Shota .
The story's synopsis, as previously reported:
Suzuki plays the role of Endo Mayumi, a housewife who is driven to her mental and emotional limits due to her obsession with vanity, the collapse of her household, and harassment from her neighborhood. At the center of the story is a murder that occurs in an upscale residential area, and the Endos are one of three troubled families (along with the Kojimas and the Takahashis) depicted as the plot unfolds and the truth comes to light.

Having just moved into the neighborhood, it seems as if Mayumi's dreams of a happy life have come true. However, her daughter fails to enter a prestigious private junior high school and turns to household violence, her husband begins avoiding coming home, and the people around her begin bullying her, all while she also has to worry about repaying the loan for her home. Her neighbors, the Takahashis, seem like an elite and happy family, until one day when Mr. Takahashi is murdered.
Ishida will play the part of Takahashi Atsuko, a seemingly perfect housewife who ends up being suspected of murdering her husband Hiroyuki (played by Tanaka Tetsushi). The Takahashi children will be played by Yasuda, Nakagawa Taishi, and Miyazaki Karen.
Mr. Endo will be played by Miyasako Hiroyuki, while the Endos' daughter will be played by Sugisaki Hana. Natsuki Mari has been cast as Kojima Satoko, the woman who bullies Mayumi. Takahashi Katsunori will play the police detective on the murder case.
"Yakou Kanransha" will air on Fridays at 10:00pm, starting in January.
Source:
Oricon