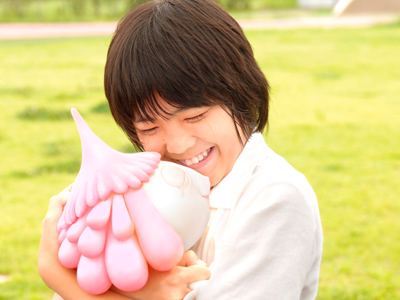 Artist Murakami Takashi, best known for pioneering the "superflat" style, will make his live-action directorial debut with a film called "Mememe no Kurage" ("Jellyfish Eyes"). In addition to directing, he is also handling the original story and the character design. Although the movie will not be released in theaters in Japan until April 26, 2013, a sequel "Mememe no Kurage 2" is also in the works.
Murakami is said to have worked on the sci-fi fantasy story over the past 10 years, originally set to be a fully CG-animated film. However, that project never got completed, and it later evolved into a live-action movie, which is said to include more than 900 cuts of CG animation.
The story is set after the March 2011 earthquake and tsunami. Sueoka Takuto stars as a young boy named Masashi, whose family moves to a new city. He discovers a strange jellyfish-like creature that adults cannot see, and he and the creature gradually become friends. Asami Himeka plays the heroine, a young girl who spends her time with Masashi and the "friend."
Other cast members include Sometani Shota, Kubota Masataka, Saito Takumi, Tsuruta Mayu, and Tsuda Kanji.
Sources:
Cinema Today
Eiga.com