FLOW (band)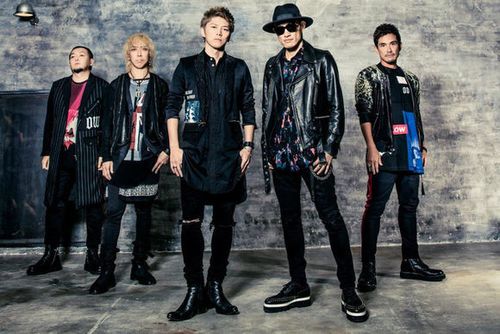 FLOW is a Japanese rock band singed to Ki/oon Music, a Sony Music Entertainment sub-label. The band has five members: KOHSHI, KEIGO, TAKE, GOT'S and IWASAKI. The band started in 1993 by KOHSHI and TAKE brothers. In 1998 KEIGO and GOT'S joined and IWASAKI become a member of FLOW in 2000 completing the current band.
Members
Information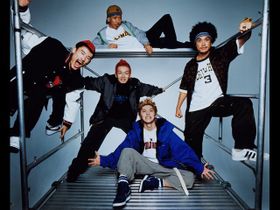 The two brothers, KOHSHI and TAKE, started their band activities in 1993. KOHSHI's big idol was hide (X JAPAN). Sometime later they started their first own X JAPAN cover band, called WYBURN. From their neighbourhood they found a guy who was a big fan of Yoshiki and he joined them on drums. KOHSHI took hide's part in the band and TAKE took Pata's role.
When X JAPAN disbanded, the band changed from a X JAPAN cover band to a hide cover band, and they also changed their name to "Pinking". Around this time they also wrote some of their own songs, and the band developed themselves from a cover band to an independent band.
After they released their sold out first demo-tape, they wanted to change their style. They thought about creating a band with two vocalists and light hip-hop influences. After some discussions the band FLOW was created in 1998 and KOHSHI became the second singer. They found some members to join them, and KEIGO took the position as the main vocalist, GOT'S became the bassist and IWASAKI became the drummer. Since then the line-up has never changed.
"Okuru Kotoba", their first cover single, sold over 270,000 copies when released in January 2003. It reigned atop the Oricon indie chart for seven consecutive weeks and also hit an impressive #6 on the overall singles chart. In the spring of that year, their first full-scale album SPLASH!!! ~Haruka Naru Jishu Seisaku BEST~ that compiled re-recorded songs from their indie era and new songs, was released by Ki/oon Records, debuting at #2.
Many of their songs have also been used in conjunction with anime turning this band even more popular. "GO!!!" and "Re:member" was chosen as opening theme songs for NARUTO, "DAYS" was featured in Eureka Seven, "WORD OF THE VOICE" as the first opening theme for PERSONA -trinity soul-, and "COLORS" and "WORLD END" as Code Geass: Lelouch of the Rebellion series openings. For 2009, it's scheduled their new single, "Sign", opening song for anime NARUTO: Shippuuden. Their single CALLING was released in 2011 and featured as the ending for the anime Heroman. Their song Hey!! was the third opening theme for the anime Beelzebub in 2011 and the song Brave Blue was used as the second opening theme for the anime Eureka Seven AO in 2012. They provided a cover of Cha-La Head-Cha-La as the main theme song for the film Dragon Ball Z: Battle of Gods; the song, coupled with Hero ~Kibou no Uta~ from the film, was released as a double A-side single on March 20, 2013, and subsequently would be featured as the opening theme for in the 2014 video game Dragon Ball Z: Battle of Z. Ai Ai Ai ni Utarete Bye Bye Bye released on February 26, 2014 was used as the second opening to the anime Samurai Flamenco. Their next single, 7-seven will be a collaboration with the band GRANRODEO and it will be featured as the ending theme song for the anime The Seven Deadly Sins. Flow will release their second anime best album compilation "FLOW ANIME BEST Kiwami" on February 25, 2015.
Contents
Discography
Studio Albums
Best Albums
Mini-Albums
Singles
Digital Singles
Split Singles
Video Releases
Compilations / Other
External Links