Kobukuro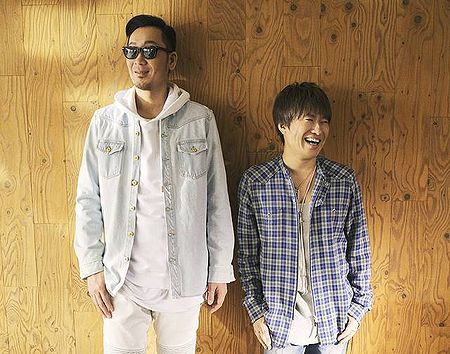 Kobukuro (コブクロ) is a Japanese folk-pop band formed in 1998, and debuted in 1999 as an indies artist. In 2001 they signed up to Warner Music Japan.
Members
Information
On May, 1998 Kobuchi Kentaro, while he was doing his salesman work for SANIX company, met Kuroda Shunsuke who was performing on the streets. On September of the same year Kobuchi offered a song to Kuroda, seeing he was not very good playing guitar, he took that place instead. This led Kuroda to propose to form a duo on September 8. With the duo already formed, they composed their first song "Sakura" (which was re-recorded on 2005).
The duo's name 'Kobukuro' came from a Portmanteau between their family names; Kobuchi and Kuroda.
Their first indies album, Saturday 8:pm, reached #1 on the HMV Indies Chart, while their next, Root of my mind, reached #2.
They were later signed up to Warner Music Japan in 2001, and debuted in March with the single "YELL / Bell", which reached #4 on Oricon charts. Though they steadily climbed in fame and success, their major break through single was "Koko ni Shika Sakanai Hana" in 2005, which was used as the theme song to the dorama Ruri no Shima. It was so successful that became the #15 single of the year. Their next single "Sakura" also continued on with the extreme success that they had gained, reaching #61 on the 2005 yearly charts, yet still charting highly throughout 2006. They had 2 albums in the top ten of 2006, being the only artist to do so. In October 13 of 2007 three million copies of the collection album ALL SINGLES BEST were shipped to stores, becoming the fourth male artist to do it, being preceded by B'z, Southern All Stars and GLAY.
In 2007 Kobuchi Kentaro produced the single "Taisetsu na Mono" sung by mitsuki. On December, 30, Kobukuro won the Grand Prix award at the 49th Japan Record Awards with the song "Tsubomi".
Contents
Discography
Studio Albums
Best Albums
Cover Albums
Boxes
Singles
Special Singles
Split Singles
Digital Singles
Video Releases
Other Video Releases
Compilations / Other
Band
Current Band Members
Former Band Members
String Members
External Links