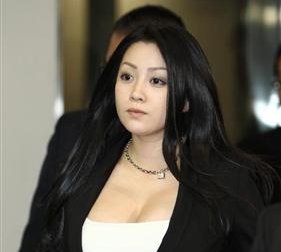 Talento Komukai Minako (25) was arrested on drug charges on Friday night. Police issued the warrant for her arrest last month, but she left the country for the Philippines the next day (January 21). Even after the warrant was publicly reported in the news this month, she continued her stay until Friday evening, when she returned to the country at Narita Airport.
Police and reporters were ready for her return at the airport. She was formally arrested at 7:58pm, though she openly denied her alleged crime when she was presented with the warrant.
Komukai is suspected of violating the Stimulant Control Law, specifically for transfer. According to police, she is believed to have purchased approximately 0.9 grams of stimulants in a hotel room in Shinagawa, Tokyo, at around 12:30am on May 14, 2010. The seller was a Japanese person working under an Iranian drug dealer, whose organization was the target of a recent drug bust that resulted in the arrest of dozens of dealers and customers.
While in the Philippines, Komukai did an interview with the Shukan Post magazine, in which she stated that she did not know about the arrest warrant until a couple weeks ago.
Komukai was initially scheduled to fly back to Japan on February 16, but she canceled her plans at the last minute. She then successfully filed for a visa extension, which would have let her stay until March 21. On February 22, police filed with the Ministry of Foreign Affairs to issue an order for Komukai to return her passport, backed by the threat of revoking her passport if she did not comply in time (possibly leading to a deportation).
Komukai was found guilty of using stimulants once before. In February 2009, she was handed an 18-month sentence, but it was suspended for three years. If found guilty again for her current charges, then she will be required to serve prison time.
Source:
Sankei Sports