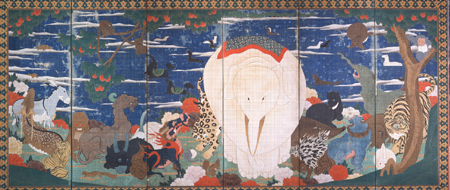 Arashi member Ohno Satoshi (30) has been appointed as the navigator of a short series on NHK's BS Premium satellite channel, marking his first opportunity to host a television show on his own. The show, called "Jakuchu Miracle World," will air on four consecutive nights, from April 25 to April 28.
The show covers the life of painter Ito Jakuchu (often referred to simply as Jakuchu), who lived between 1716 and 1800, during the mid-Edo period. In particular, state-of-the-art technology will be used to analyze his works in detail.
Ohno himself is a painter and sculptor. In 2008, he held an art exhibition called "FREESTYLE," which started in Tokyo and traveled to other major cities across Japan. It is said that Ohno became a fan of Jakuchu's works about five years ago, after receiving a recommendation from a friend.
BS Premium is a new high-definition satellite channel that will start on April 1, when NHK consolidates its three satellite channels into two. "Jakuchu Miracle World" will be broadcast from 9:00pm to 10:00pm on April 25-27, and from 8:00pm to 9:00pm on April 28.
Source:
Mantan Web