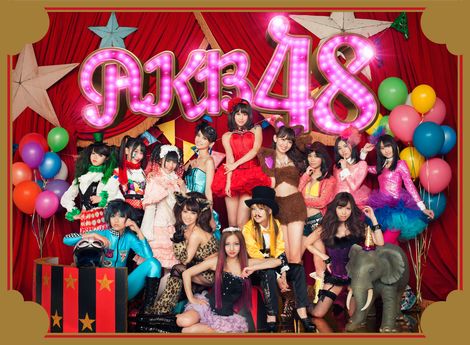 Idol group AKB48 finally released their first original album, "Koko ni Ita Koto," last week. Following a string of top-selling singles, the album also had an impressive first week with roughly 602,000 copies sold.
"Koko ni Ita Koto" is the first original album by a female group to sell more than half a million copies in the first week since Morning Musume's "3rd LOVE Paradise" in 2000 (578,000 copies sold). This still leaves them behind SPEED's first two albums "Starting Over" and "RISE," which initially sold 823,000 and 1.32 million copies, respectively.
The sales figure also puts "Koko ni Ita Koto" in the lead for highest first-week sales of 2011, ahead of EXILE's "Negai no Tou" (481,000).
AKB48 – Koko ni Ita Koto – 601,985
Shoujo Jidai – GIRLS' GENERATION – 94,105
Hirai Ken – JAPANESE SINGER – 60,054
Lady Gaga – Born This Way – 34,783
The Gospellers – Hamorhythm – 22,101
THE BAWDIES – LIVE THE LIFE LOVE – 19,563
UVERworld – LIFE 6 SENSE – 14,005
Il Divo – Il Divo Love Songs Inspired by the film Andalucia – 13,460
Sandaime J Soul Brothers – J Soul Brothers – 13,045
In singles, Kanjani8 achieved another #1 with "365 Nichi Kazoku," at around 158,000 in sales. They now have a streak of 5 consecutive chart-toppers, with the last 3 released in consecutive months.
Meanwhile, SUPER JUNIOR took the #2 spot with their first Japan single, "BONAMANA." At 59,262 copies sold, they edged out 2PM's "Take off" (59,059) to achieve the highest first-week sales for a Korean group's first Japan single. They are also tied with BEAST and MBLAQ for the highest chart position for a Korean group's first Japan single.
Kanjani8 – 365 Nichi Kazoku – 158,141
SUPER JUNIOR – BONAMANA – 59,262
AKB48 – Everyday, Kachusha – 45,903
Acid Black Cherry – Shoujo no Inori III – 40,669
Kaoru to Yuki, Tama ni Mook – Maru Maru Mori Mori! – 39,062
B'z – Don't Wanna Lie – 28,483
Team Amuse!! – Let's try again – 23,713
RESTART JAPAN with TUBE – RESTART – 21,352
Ketsumeishi – Kodama – 20,781
Sources:
Oricon (weekly album ranking)
Oricon (weekly single ranking)
Oricon
Oricon
Oricon