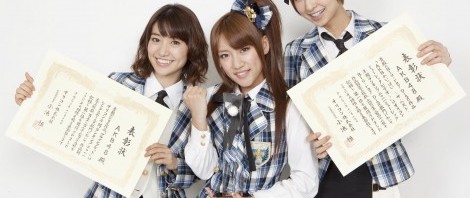 Oricon has released its sales rankings for 2011, and as expected, AKB48 holds the top 5 spots on the single charts. Their total sales – counting CDs, DVDs, and Blu-rays – add up to 16.28 billion yen and 8.911 million copies sold. The group has set a new record for ranking #1 in 7 of Oricon's 16 categories, including achieving their first #1 in the Total Artist Sales ranking.
Just last week, AKB48 released their 5th single of the year, "Ue Kara Mariko." All five have sold more than a million copies, making them the five best selling singles of 2011. Up until now, three artists had achieved the top 3 singles for the year (Pink Lady in 1978, Hikaru Genji in 1988, and Arashi in 2009), but AKB48 is the first to take the top 5.
For singles released by a female group, "Flying Get" broke the previous record of 1.554 million copies, set by Pink Lady's "UFO" in 1978.
AKB48 also now holds the record for most million-selling singles in a year, surpassing B'z and Mr.Children's previous records of 4, set in 1995. They sold a total of 7.346 million singles, breaking Mr.Children's record of 6.63 million (also set in 1995).
The 7 categories topped by AKB48 in Oricon's yearly rankings are:
Total sales by artist (16.28 billion yen, new record for a female group)
Copies sold for a single ("Flying Get" – 1.587 million, new record for a female group)
Total sales for a single ("Everyday, Kachusha" – 2.15 billion yen)
Total sales by artist, for singles (9.59 billion yen)
Copies sold for a music Blu-ray ("AKB ga Ippai" – 148,000)
Total sales for a music Blu-ray ("AKB ga Ippai" – 1.01 billion yen)
Total sales by artist, for Blu-rays (1.01 billion yen)
Source:
Oricon