Be sure to check out our
Facebook page
for the latest changes and to interact with thousands of fans worldwide just like you!
THE BACK HORN
From generasia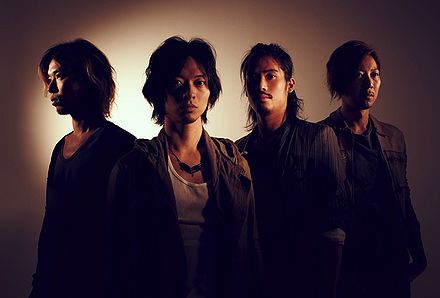 THE BACK HORN (ザ・バックホーン) is a four piece Japanese rock band. The band was formed in 1998 in Tokyo and consists of Yamada Masashi on vocals, Suganami Eijun on guitar, Okamine Koshu on bass and Matsuda Shinji on drums. They debuted with the mini-album Doko e Yuku on Kando Records. In 2001, the band signed with Speedstar Records and released the single, "Sunny".
Members
Former Members
History
THE BACK HORN was formed in April 1998, when the original members all came to Tokyo from the countryside where they all lived, all for different reasons. They met, and decided to start a band. First called Gyorai, they soon changed their name to THE BACK HORN.
Following their first notable performance at the Fuji Rock Festival in 1999, they released a mini-album Doko e Yuku on Kando Records. Seven months after that, they released their first full-length album, Yomigaeru Hi. After this, the band got signed to a major label, Speedstar Records. Although they, to this day, still remain on Speedstar Records' roster, they're still often thought of as an indie band. It was also around this time when Hirabayashi Naoki decided to leave the band.
It was only after the release of their first major album, Ningen Program, that they found a new bassist, Okamine Koshu, though he was not immediately made a full-time member. He was however involved in recording of the next album, Shinzou Orchestra, and while touring for the album, the band announced that he was now an official member.
As the band was becoming increasingly popular, they were asked to provide music for two movies: Kurosawa Kiyoshi's Bright Future and Kiriya Kazuaki's CASSHERN, releasing the album Ikiru Sainou in between them.
After a couple of tours, including a show at the Rock In Japan festival, a couple of single releases and the release of their first live DVD, they released their fifth full-length album, Headphone Children, considered by many to be a concept album. The song "Kiseki" from the album was used in the horror movie Zoo. The tour following Headphone Children was a success and the band decided to release a live album of it, entitled Ubugoe Chainsaw which contained the best performances of songs from the tour. Two months later, THE BACK HORN played their first show in Europe, at a festival in Barcelona, Spain.
The band then released a couple of singles and did some shows again, including an acoustic street tour with only Yamada and Suganami, where they just performed on the streets of Japan for free. In April 2006, they released their fifth major album, Taiyou no Naka no Seikatsu, and then their sixth album in May, 2007, self-titled THE BACK HORN. Their sixteenth major single, "Wana", was used as the first ending theme to the fall 2007 anime, Mobile Suit Gundam 00.
Discography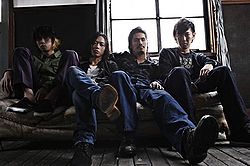 Albums
Mini-Albums
Other Albums
Singles
Other Singles
Digital Singles
DVDs
Compilations
Books
[2008.06.07] THE BACK HORN no Sekai (ザ・バックホーンの世界)
[2008.09.03] Fukushimadai Gyakushuu (福島大逆襲)
[2010.02.10] Sei to Shi to Shi (生と死と詞)
External Links