New user registrations outside of OpenID have been disabled pending a review of a recent influx of spam accounts. Apologies for any inconvenience this may have caused.
All Singles Best (Kobukuro)
From generasia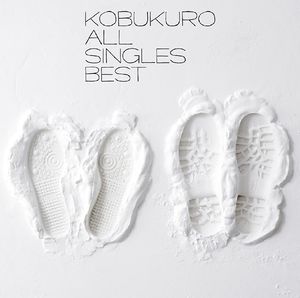 Artist

Album

ALL SINGLES BEST

Released

2006.09.27

Catalog Number

WPZL-30049/51 (Limited Edition)
WPCL-10368/69 (Regular Edition)

Price

¥3,500 (Limited Edition)
¥3,300 (Regular Edition)

CD Tracklist
DVD Tracklist
Mirai e no Kaerimichi (未来への帰り道) (short movie)
Making of Mirai e no Kaerimichi (未来への帰り道) (Video Clip)
ALL SINGLES BEST CD Cover Making
Long Interview
Information
ALL SINGLES BEST is the first best album released by Kobukuro. It was released in two different versions: a limited 2CD+DVD edition and a regular two CD-set edition. The limited edition came housed in a digipak. The album includes all the A-sides released until the date, plus Kobukuro's version of "Maiasa, Boku no Yoko ni Ite" and the new song, "Mirai e no Kaerimichi".
As this album sold 1,748,682 copies in 2006, it became the #3 album of the year. As it sold 852,637 copies in 2007, it became the #3 album of the year. It also sold 316,549 copies in 2008, becoming the #29 album of the year. As of 2012, the album broke the three million mark with 3,041,377 copies sold and charted for 263 weeks, and is still charting.
Track Order
The tracklist follows a reverse order based on the composition date (except for the bonus track which was composed on 2006/06). These are the dates:
Kimi to Iu Na no Tsubasa - 2006/05
Anata e to Tsudzuku Michi - 2006/02
Koko ni Shika Sakanai Hana - 2005/02
Maiasa, Boku no Yoko ni Ite - 2004/08
Million Films - 2004/07
Towa ni Tomo ni - 2004/01
blue blue - 2003/02
Takarajima - 2003/01
Yuki no Furanai Machi - 2002/09
Negai no Uta - 2002/04
Kaze - 2001/12
YOU - 2001/01
miss you - 2000/04
YELL - 2000/01
Bell - 1999/11
Wadachi - 1999/09
DOOR - 1999/09
Taiyou - 1999/06
Sakura - 1998/09
Oricon Chart Positions
Mon
Tue
Wed
Thu
Fri
Sat
Sun
Week Rank
Week
Sales
-
1
1
1
1
1
1
1
01; 2006.10.02
556,988
1
1
1
1
1
1
1
1
02; 2006.10.09
301,136
1
1
1
1
1
1
1
1
03; 2006.10.16
250,098
1
1
1
1
1
1
1
1
04; 2006.10.23
172,991
1
4
3
2
2
2
2
2
05; 2006.10.30
133,418
1
3
3
2
2
2
2
2
06; 2006.11.06
95,750
2
5
4
3
4
3
3
3
07; 2006.11.13
78,812
3
8
7
6
6
4
4
6
08; 2006.11.20
56,339
4
14
12
7
8
6
6
11
09; 2006.11.27
43,133
6
15
13
10
9
8
9
12
10; 2006.12.04
33,310
7
17
15
13
13
12
11
12
11; 2006.12.11
26,707
10
20
20
17
16
14
12
18
12; 2006.12.18
22,308
14
19
-
17
17
14
10
17
13; 2006.12.25
25,789
11
15
16
11
7
7
6
/
N/A
5
4
5
5
6
3
3
6
14; 2007.01.08
62,965
3
4
3
3
4
4
4
4
15; 2007.01.15
24,387
4
12
11
9
9
x
x
6
16; 2007.01.22
21,613
x
x
x
x
x
x
x
9
17; 2007.01.29
18,008
x
x
x
x
x
x
x
10
18; 2007.02.05
14,673
x
x
x
x
x
x
x
15
19; 2007.02.12
12,715
x
x
x
x
x
x
x
12
20; 2007.02.19
12,506
x
x
x
x
x
x
x
17
21; 2007.02.26
12,281
x
x
x
x
x
x
x
13
22; 2007.03.05
15,973
x
x
x
x
x
x
x
15
23; 2007.03.12
14,517
x
x
x
x
x
x
x
11
24; 2007.03.19
22,283
x
x
x
x
x
x
x
8
25; 2007.03.26
22,552
x
x
x
x
x
x
x
8
26; 2007.04.02
23,992
x
x
x
x
x
x
x
7
27; 2007.04.09
22,239
x
x
x
x
x
4
5
6
28; 2007.04.16
21,831
4
13
10
9
10
7
7
7
29; 2007.04.23
17,614
6
12
9
12
11
8
8
11
30; 2007.04.30
17,264
7
7
8
6
6
5
6
6
31; 2007.05.07
25,990
7
8
9
8
8
5
5
7
32; 2007.05.14
17,562
7
14
12
10
10
9
9
11
33; 2007.05.21
12,746
11
-
-
20
17
14
12
21
34; 2007.05.28
10,340
13
18
16
3
4
4
4
9
35; 2007.06.04
22,889
4
10
9
5
5
4
4
6
36; 2007.06.11
23,576
4
5
4
3
3
3
3
3
37; 2007.06.18
24,741
3
9
6
5
5
4
4
5
38; 2007.06.25
24,591
4
18
17
11
11
7
7
11
39; 2007.07.02
26,857
6
12
11
8
8
5
6
8
40; 2007.07.09
19,783
5
11
13
11
10
8
7
9
41; 2007.07.16
16,896
7
12
11
11
9
7
7
11
42; 2007.07.23
16,454
6
15
13
12
12
12
12
12
43; 2007.07.30
16,137
12
16
14
11
9
6
7
12
44; 2007.08.06
14,371
7
12
12
10
10
9
9
13
45; 2007.08.13
14,001
7
10
11
11
12
10
11
10
46; 2007.08.20
17,344
12
-
19
15
13
9
12
12
47; 2007.08.27
12,338
9
18
15
14
13
12
13
14
48; 2007.09.03
10,347
12
-
-
-
-
-
-
28
49; 2007.09.10
7,539
-
-
-
-
-
-
-
31
50; 2007.09.17
6,771
-
-
-
-
-
-
-
36
51; 2007.09.24
6,325
-
-
-
-
-
-
-
35
52; 2007.10.01
6,698
-
-
-
-
-
-
-
31
53; 2007.10.08
5,870
-
-
44
33
30
21
19
30
54; 2007.10.15
6,723
7
11
12
13
12
11
9
13
55; 2007.10.22
10,991
9
35
25
19
19
18
14
23
56; 2007.10.29
9,477
13
17
18
18
16
19
16
17
57; 2007.11.05
7,992
16
26
25
18
16
17
12
20
58; 2007.11.12
8,089
11
23
25
21
19
14
12
19
59; 2007.11.19
9,594
12
36
30
19
12
13
13
24
60; 2007.11.26
9,602
14
32
25
20
16
14
8
16
61; 2007.12.03
9,311
9
26
20
14
13
8
9
14
62; 2007.12.10
14,082
13
21
16
14
14
13
11
14
63; 2007.12.17
18,072
13
23
14
15
13
11
12
13
64; 2007.12.24
22,922
10
14
13
15
14
11
12
/
N/A
7
8
7
7
7
7
8
8
65; 2008.01.07
71,558
11
11
9
10
9
5
6
8
66; 2008.01.14
21,787
9
13
13
13
11
8
8
13
67; 2008.01.21
18,268
12
25
21
21
18
5
7
13
68; 2008.01.28
15,441
8
-
-
-
-
-
-
-
69; 2008.02.04
13,292
12
25
24
21
19
17
16
18
70; 2008.02.11
8,747
15
24
28
22
24
19
22
22
71; 2008.02.18
8,349
15
35
31
29
29
25
25
30
72; 2008.02.25
6,307
25
43
36
34
29
25
29
33
73; 2008.03.03
5,989
29
-
43
35
31
26
22
34
74; 2008.03.10
6,284
27
41
37
25
19
19
19
25
75; 2008.03.17
7,041
19
40
36
24
36
23
20
30
76; 2008.03.24
5,955
19
39
38
28
25
25
22
31
77; 2008.03.31
5,493
16
40
29
26
24
26
23
29
78; 2008.04.07
4,549
32
45
45
38
36
32
33
39
79; 2008.04.14
3,768
34
-
45
49
-
40
42
53
80; 2008.04.21
3,314
42
-
-
-
-
46
49
65
81; 2008.04.28
2,871
48
43
-
-
44
42
32
52
82; 2008.05.05
3,439
30
29
36
38
31
25
24
30
83; 2008.05.12
3,935
29
45
42
43
41
37
40
46
84; 2008.05.19
2,478
37
-
-
-
-
50
48
59
85; 2008.05.26
2,390
47
-
-
-
-
44
-
62
86; 2008.06.02
2,780
39
-
-
-
-
-
-
64
87; 2008.06.09
2,618
-
-
-
-
-
43
-
62
88; 2008.06.16
2,409
46
-
-
-
-
-
-
68
89; 2008.06.23
2,151
46
-
-
-
-
-
-
82
90; 2008.06.30
2,617
-
-
-
-
-
-
-
85
91; 2008.07.07
2,229
-
-
-
-
-
-
-
98
92; 2008.07.14
1,778
-
-
-
-
-
-
-
96
93; 2008.07.21
1,639
-
-
-
-
-
-
-
104
94; 2008.07.28
1,831
-
-
-
-
-
-
-
93
95; 2008.08.04
1,750
-
-
-
-
-
-
-
97
96; 2008.08.11
1,541
-
-
-
-
-
-
-
66
97; 2008.08.18
2,102
-
-
-
-
-
-
-
85
98; 2008.08.25
1,653
-
-
-
-
-
-
-
96
99; 2008.09.01
1,619
-
-
-
-
-
-
-
108
100; 2008.09.08
1,348
-
-
-
-
-
-
-
89
101; 2008.09.15
1,667
-
-
-
-
-
-
-
85
102; 2008.09.22
1,606
-
-
-
-
-
-
-
103
103; 2008.09.29
1,854
-
-
-
-
-
-
-
84
104; 2008.10.06
1,663
-
-
-
-
-
-
-
87
105; 2008.10.13
1,598
Total Reported Sales: 3,041,377* (2010.05.15)
Sales in 2006: 1,748,682
Sales in 2007: 852,637
Sales in 2008: 316,549
Sales in 2009: 67,571
World Chart Positions
| | Week 1 | Week 2 | Week 3 | Week 4 | Week 5 | Week 6 | Week 7 |
| --- | --- | --- | --- | --- | --- | --- | --- |
| Position | 1 | 3 | 3 | 5 | 11 | 18 | 24 |
External Links