Kochi Yugo
From generasia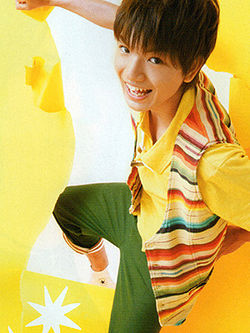 Kochi Yugo (高地優吾) is a member of Johnny's Entertainment group Nakayama Yuma w/B.I.Shadow
Profile
Name: Yugo Kochi (高地優吾)
Birthday: March 8, 1994
Blood Type: A
Height: 173cm
Weight: 54kg
Shoe size: 27cm
Admired Sempai Kamenashi Kazuya , Aiba Masaki
Trivia
His hobbies are basketball, tennis, and hide-and-seek. He'd rather run around outside than be at home.
His talent is soccer.
He is hooked on shopping for clothes. He gathers info on fashion from reading magazines. The clothes he has are mostly black or plain colors.
His favorite foods are omurice (omlette rice) and strawberries.
His least favorite food is shiitake mushrooms because he can't stand the smell or texture.
His favorite drink is Japanese tea
His favorite sport is soccer
His favorite color is Green
His favorite type of girls is cheerful.
His future dream is to become a celebrity.Before that, he'll do his best to be able to dance right. He couldn't get the rhythm right at first.
He is good friend with Yasui Kentaro
His favorite movie is "Afterschool"
His favorite manga is "Captain Tsubasa"
Drama
External Links