It is thanks to each and every one of you that has made Generasia the largest resource for Asian media info. To our wonderful contributors, thank you!
Liu Yifei
From generasia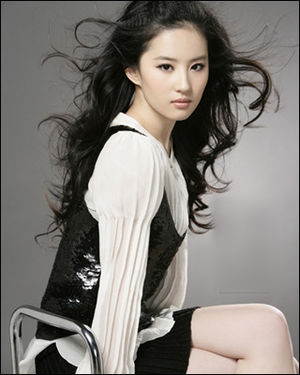 Liu Yifei (劉亦菲), also known as yifei in Japan, is a Chinese-American actress and singer.
Profile
Birth Name: An Feng (安風, or 安风)
Legal Name: Liu Ximeizi (劉茜美子 or 刘茜美子)
English Name: Crystal
Acting Name: Liu Yifei (劉亦菲 or 刘亦菲)
Japanese Music Stage Name: yifei
Birthday: August 25, 1987
Birthplace: Beijing
Blood Type: B
Height: 169 cm
Weight: 48 kg
Information
yifei was born in Beijing but spent her childhood mostly in Wuhan. Her mother was a dancer and a stage performer, and her father was a university professor. When yifei was only 7 years old, her parents divorced. After the divorce she lived with her mother and her name was changed to Liu Ximeizi. She started out modeling when she was only 8 years old. During this time showed talents in singing, dancing and playing piano. In 1998 her and her mother moved to the US. During her four years there she gained an American citizenship.
She moved back to China in 2002 to pursue a career in acting and adpoted the stage name Liu Yifei. In September 2002, she was accepted into the Performance Institute of Beijing Film Academy at the young age of 15. This made herthe youngest student in the schools history. She has recently graduted from the school in July 2006.
Acting Career
After being accepted at Beijing Film Academy, yifei was giving many offers to star in various drama's. Her first role on television was in The Story of a Noble Family. Her first TV drama was The Story of a Noble Family. She then got her leading role as Wang Yuyan in the CCTV drama Demi-Gods and Semi-Devils 2003, a WuXia drama based on the legendary Jin Yong novel of the same name. Her age was a major concern during this time. They were unsure she'd be able to handle the role with being so young. Yifei proved to everyone that her maturity is beyond her age and her performance in the series established her fame in China.
In 2003 yifei starred in her first film, Love May. Soon after her popularity increased because her starring role in the Chinese Paladin which is was based on a RPG video game, in 2004. Then she returned to the big screen in the movie The Love Winner. In 2006, yifei gained international fame as Xiao Longnu in CCTV's television drama, Return of Condor Heroes 2006, another WuXia novel adopted production.
Music Career
In August 2005 yifei signed a contract with Sony Music Japan. Since then has been working on her singing and dancing spending her time both in China and Japan. On July 19, 2006 she released her debut single Mayonaka no Door. The title track was used as the ending song for the Demashita! Powerpuff Girls Z anime. On September 5th she released her debut Mandarin album. Only a day later came the release of her debut Japanese album, All My Words only after one single.
Discography
Chinese Albums
Japanese Albums
Japanese Singles
Filmography
Television Dramas
[2002] The Story of a Noble Family
[2003] Demi-Gods and Semi-Devils 2003
[2004] Chinese Paladin
[2005] Dou Kou Nian Hua
[2006] The Return of the Condor Heroes 2006
Films
[2003] Love May
[2004] The Love Winter
[2006] A Bao De Gu Shi
[2008] The Forbidden Kingdom
External links