New user registrations outside of OpenID have been disabled pending a review of a recent influx of spam accounts. Apologies for any inconvenience this may have caused.
Okada Yukiko
From generasia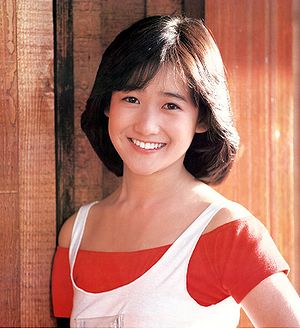 Okada Yukiko (岡田有希子) was a Japanese pop idol singer.
Profile
Real Name: Sato Kayo (佐藤佳代)
Nickname: Yukko
Birthdate: August 22, 1967
Deathdate: April 8, 1986 (aged 18)
Birthplace: Ichinomiya, Aichi Prefecture
Blood Type: O
Information
Okada Yukiko got her start in the world of show business after winning the competition Star Tanjou! in 1983. She debuted a year later as a idol singer with the single "First Date". Before the year was up, Okada's music was so well received that she was nominated and won some music awards, including the Rookie of the Year award, from various award ceremonies like FNS Kayousai, Japan Record Awards, Japanese Television Music Awards, and others.
In 1986, Okada released the Matsuda Seiko-penned single "Kuchibiru Network", which was used as a campaign song for Kanebo Cosmetics.
Sadly, Okada's mental health began to decline after the single was release. On April 8, 1986 she was found in her gas-filled apartment's closet with slashed wrists. Two hours later, Okada Yukiko comitted suicide by jumping off her record company's building. She fell many stories below to her instant death. Her death impacted many of her fans and non-fans alike that thirty-one people committed suicide like Okada, nicknaming this trend as "Yukko Syndrome".
After her death, her record company posthumously released the single "Hana no Image" a month after her death. They also released countless things after her death like a DVD, re-release of her books, and a memorial box for her albums. In 2002, her record company released another posthumous single, "Believe In You (2002 Strings Version)".
Discography
Original Albums
Best Albums
Singles
Videos / DVDs
[1985.08.02] Yukiko in SWISS
[1985.12.05] Memories of Switzerland
[2002.12.18] Memories in Swiss
Books
[1984.xx.xx] Idol Complex Jitsuroku Manga Okada Yukiko (アイドルコミックス・実録まんが岡田有希子)
[1984.xx.xx] Okada Yukiko special (岡田有希子special)
[1985.xx.xx] Hitomi wa Himitsu Iro (瞳はヒミツ色)
[1985.xx.xx] Namiko Yukiko Saori no Doki Doki Book (奈美子・有希子・小緒里のドキドキブック)
[1985.xx.xx] Okada Yukiko Shashinshuu Anata to Futarikiri... (岡田有希子写真集・あなたとふたりきり…)
[1985.xx.xx] Motto Ai Itai... Yukiko (もっと逢いたい…有希子)
[1985.xx.xx] SWEET LOVE DREAM
[1986.xx.xx] Venus Tanjou (ヴィーナス誕生)
[1986.xx.xx] Sayonara... Yukiko (さよなら…有希子)
[1986.xx.xx] Okada Yukiko wa Naze Shinda ka (岡田有希子はなぜ死んだか)
[1987.xx.xx] Ai wo Kudasai (愛をください)
[1989.xx.xx] Sacrifice (サクリファイス)
[1998.xx.xx] Iina ~Feel For Love~ (イイナ ~Feel for Love~)
[2002.xx.xx] Venus Tanjou (ヴィーナス誕生)
[2002.xx.xx] SWEET LOVE DREAM
External Links