New user registrations outside of OpenID have been disabled pending a review of a recent influx of spam accounts. Apologies for any inconvenience this may have caused.
Sakura (drummer)
From generasia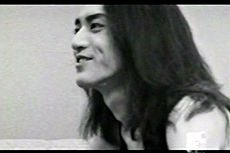 sakura is a Japanese drummer, guitarrist and music producer. He is best known for his time as the drummer of popular Japanese rock band L'Arc~en~Ciel. His musical influences include those of Led Zeppelin and Pink Floyd; his drumming style is similar to and inspired by the drumming of John Bonham.
Profile
Biography
Sakura was born Sakurazawa Yasunori on November 20th, 1969 in Nerima, Tokyo, the youngest child of three. As the youngest child and second son in a fairly wealthy family, he led a very free-spirited childhood. Sakura was something of a mama's boy and sometimes a troublemaker. In school, he enjoyed subjects such as mathematics and physics and was a member of the judo club. He was inspired to learn to play the drums in high school after hearing an student a year above him play.
After graduating high school, Sakura became a roadie for the popular 80s band DEAD END. During his time with DEAD END he was able to fine-tune his drumming by studying DEAD END drummer Minato Masafumi. He even did some support work for DEAD END.
Following his time with DEAD END, Sakura branched out on his own, trying to make it by working as a free-lance drummer, supporting bands on a gig-by-gig basis. He had little interest in joining and remaining a member of a band, but when he got the call from tetsu of L'Arc~en~Ciel in 1993 he soon found himself agreeing to join the band.
It was in L'Arc~en~Ciel that Sakura was able to finally make a name for himself. He put his all into the band as a perfectionist and musician, but Sakura found himself facing a troubled mentality and began using drugs. In February of 1997 Sakura was arrested for heroin possession and soon after quit L'Arc~en~Ciel.
Two years passed before Sakura found himself getting back on his feet. He formed the band ZIGZO with Takano Tetsu, DEN, and RYO in 1999. Despite Sakura's ambitions, ZIGZO lasted until only 2002. Almost immediately, Sakura joined SONS OF ALL PUSSYS with former bandmate ken of L'Arc~en~Ciel.
In 2005, Sakura decided to try something different. He joined the band Lion Heads as a guitarist and something of a mentor to his much younger band members. The band fell apart possibly by lack of motivation and has been inactive since 2007.
Since then, Sakura has been playing support for Space Filters and has tentative plans with friend and keyboardist Kaoru for a duo project they are calling Karasu.
Sakura has also been active in band production since around 2002 for artists such as SID and MUCC.
External Links