Welcome to the
new Generasia
, now with new features and a mobile-friendly browsing experience. Be sure to check out our
Facebook page
for the latest changes and to interact with thousands of fans worldwide just like you!
Seo In Young's Brand New Friend
From generasia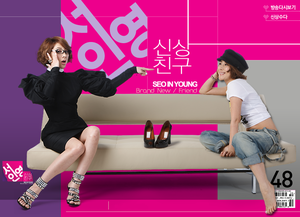 Seo In Young's Brand New Friend (서인영의 신상친구) was a 12 episode reality television show broadcasted on the cable channel M.net, in which Seo In Young chooses a new friend out of twelve hopeful contestants. The twelve contestants were given special tasks by Seo to complete, and one was eliminated each week until the last survivor was left to become Seo's friend. A total of 5,000 applicants applied for the show, yet Seo commented that the majority of the applicants weren't keen on becoming her friend and wanted to reach a celebrity status themselves. In the show, she would try to find someone who would understand and like her.
External Links