New user registrations outside of OpenID have been disabled pending a review of a recent influx of spam accounts. Apologies for any inconvenience this may have caused.
Takahashi Katsunori
From generasia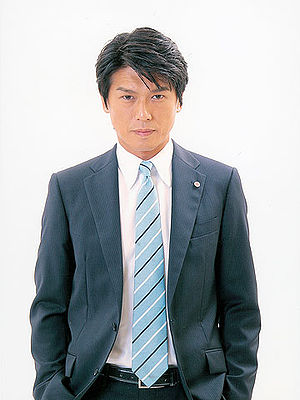 Takahashi Katsunori (高橋克典) is Japanese singer and actor.
Profile
Birthdate: December 15, 1964
Birthplace: Yokohama, Kanagawa Prefecture
Blood Type: O
Height: 174.7 cm
Agency: K-DASH
Information
Takahashi Katsunori was born into a musical family as his dad was a high school conductor and his mom was a vocal teacher at Aoyama Gakuin Women's Junior College. At the age of 3, he began to master the piano and was sent to a special school for gifted kids all through his life.
He debuted as a singer in 1993 with the single "Dakishimetai". He also debuted as an actor during the same time, starring in his first dorama named Pocket Bell ga Naranakute. He would later become famous for the Salaryman Kintaro series that he starred in since 1999. He also became a regular on several variety shows and become a caster for the Japanese coverage of the 2003 Rugby Cup.
Takahashi later married fashion model Nakanishi Hanna in 2004. In 2009, the family celebrated the birth of their first son on February 27.
Discography
Albums
Singles
Videos
[1995.07.25] Takahashi Katsunori LIVE'95 BREATHLESS (高橋克典LIVE'95 BREATHLESS)
[1996.04.01] VIDEO SESSIONS
[1996.08.25] KATSUNORI TAKAHASHI CONCERT TOUR'96 SWEET and WILD
[1997.08.01] KATSUNORI TAKAHASHI CONCERT TOUR'97 LIVE VIDEO "BLOW UP"
[1998.10.01] WILD FLOWER SPECIAL in YOKOHAMA
Photobooks
[1996.03.01] ANY HOME
[1998.04.10] Chizu ni Nai Michi (地図にない道)
[1999.11.30] Shadowa and Light
Works
Television
[1980] Beeman Hakusho
[1989] Satsurai Keiji Ryojouhen
[1993] Pocket Bell ga Naranakute
[1993] Hito no Fukou wa Mitsu no Aji
[1994] Ue wo Muite Arukou!
[1994] Good Mourning
[1995] FOR YOU
[1995] Hito Natsu no Love Letter
[1995] Ring: Kanzenban
[1995] Best Friend
[1996] Pure
[1996] Hitori Gurashi
[1997] THE TIME OF YOUR LIFE
[1997] SASHOW THE LAST CASE
[1997] Eve
[1998] Tobu Otoko
[1998] Rondevu
[1998] Akimahente!
[1999] Salaryman Kintaro
[2000] Kinyoubi no Koibitotachi
[2000] Salaryman Kintaro 2
[2001] 17nenme no Papa e
[2001] FACE ~Mishirame Koibito~
[2002] Kizu Darake no Love Song
[2002] Salaryman Kintaro 3
[2003] Toshi Shita no Otoko
[2003] Muko Shingari
[2003] Tokumei Kakarichou Tadano Hitoshi
[2004] Salaryman Kintaro 4
[2004] Batsu Kare
[2005] Tokumei Kakarichou Tadano Hitoshi Second Season
[2006] Gachi Baka
[2007] Maguro
[2007] Tokumei Kakarichou Tadano Hitoshi Third Season
[2007] Otoko no Ko Sodate
[2007] Ten to Sen
[2008] Kachou Shimakousaku
[2008] Ano Sensou wa Nandattara no ka Nichibei to Toujou Hideki
[2009] Tokumei Kakarichou Tadano Hitoshi Fourth Season
[2009] The Policeman's Lineage
[2009] Kanryoutachi no Natsu
Films
[1989] Roppongi Banana Boys
[1995] BIRTHDAY PRESENT
[1999] Salaryman Kintaro
[2000] GO-CON! JAPANESE LOVE CULTURE
[2002] Ryuuji Forever
[2002] Shin Jinki Naki Tatakai.
[2004] Ghost Shot
[2006] Ichioku no Neko
[2008] Tokumei Kakarichou Tadano Hitoshi
External Links