Welcome to the
new Generasia
, now with new features and a mobile-friendly browsing experience. Be sure to check out our
Facebook page
for the latest changes and to interact with thousands of fans worldwide just like you!
Yazima Biyoushitsu
From generasia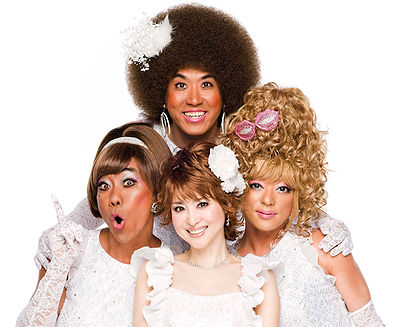 Yazima Biyoushitsu (矢島美容室) is a Japanese special unit debuted in 2008 under avex trax label with the single "Nihon no Mikata -Nevada Kara Kimashita-". The trio is formed by the comedy duo Tunnels and the singer Ayanocozey Show, although the three members only recognize them as their producers.
Members
Information
Debut
Margaret Camellia Yazima (Kinashi Noritake) is a former nude dancer from Nevada and mother of Naomi (Ayanocozey Show), a 17 year-old teenager who enjoys the Japanese gal culture, and Strawberry (Ishibashi Takaaki), a 11 year-old girl. One day Tunnels and DJ OZMA proposed them a major debut, and since Margaret was looking for his Japanese lost husband, she decides to go to Japan. In September 25, 2008 it was announced the Japanese debut of the three woman under the stage name of Yazima Biyoushitsu (Yazima Beauty Salon). In October 29. 2008, they released their first single, "Nihon no Mikata -Nevada Kara Kimashita-" which became a big hit Japan.
The group released their next two singles in 2009, "SAKURA -Haru wo Uta wa Nevada-" and "Hamaguri Bomber". Already in 2010, their fourth single "Megami no Chikara" was released only two months before their first full album Okayui Tokoro wa Gozaimasen ka?.
Film
At the same time as their first album release, it was announced their participation in their own movie Yazima Biyoushitsu THE MOVIE ~Yume wo Tsukama Nevada~. The movie, to be released on April 29, 2010, describes the "history" of the group as they win a talent contest and then travel to Japan to find Margaret's husband and the girls' father Tokujirou (徳次郎). Other than the group, the film also stars: Kuroki Meisa, Yamamoto Yusuke, Ayaka Wilson, Sano Kazuma, Dante Carver, Yanagihara Kanako, Itou Atsushi, KABA.chan, Mizutani Yutaka, Ohsugi Ren, Matsuda Seiko, and Fuji Television announcer Makihara Toshiyuki, among others. There will also be special Hello Kitty toys produced for the film as caricatures of the band.
For the movie release a fifth single was released, "Idol Mitai ni Utawasete", as well a soundtrack album, Yazima Biyoushitsu THE MOVIE MUSIC ALBUM. For this new single, Yazima Biyoushitsu collaborates with Matsuda Seiko, who appears as "Princess Seiko" (her role in the film), after appearing together for several times in TV programs.
Discography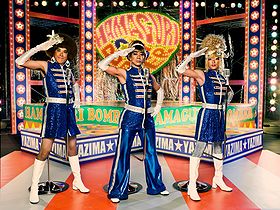 Albums
Other Albums
Singles
Filmography
Movies
External Links