New user registrations have been disabled until further notice. If you would like to create an account, please message
Generasia on Facebook
. Thank you!
Kagerou (band)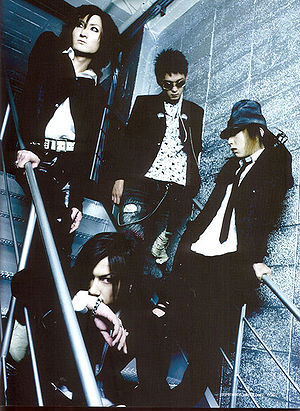 kagerou (蜉蝣: Mayfly) was a visual rock band that lately focusing their career by touring in Europe.
Members
Former Members
A founder of kagerou (with Daisuke) and first bassist. Left in October 2001 to join Kar'Maria.
Second bassist, before KAZU. Joined kagerou in January 2001, and left in August 2001, recorded projects after kagerou are KISUI PROJECT followed by GUICHE, current projects are unknown.
Overview
The band started out in 1999, founded by Daisuke (vocals) and MASAYA (bass). Guitarist Yuana joined about a month later, forming what would be the raw begginings of Kagerou. In December of 1999, the three members began writing lyrics as well as music together, practicing painstakingly, and hoping a good opportunity would come along. Their first live was held on February 13, 2000 at livehouse CYBER, and soon their opportunity happened upon them. In May of the same year, drummer Shizumi joined the band, completing their lineup, two demo tapes and their first Maxi Single released. Things were looking up.
After their time on record label Loop Ash, in 2000 Kagerou transferred to label Lizard under FREE-WILL. Not soon after their free performance at Meguro Live Station on October 11, they ceased activity, bassist MASAYA becoming agitated and leaving the band that he had helped to form. However, it wasn't the end, the band picking up where they left off when bassist Kuya joined with them on January 1, 2001. The brief stint with bassist Kuya brought two maxi singles, the Loop of Life omnibus track, a performace at On Air West, and the formation of the official Kagerou fanclub, TSUUSHIN KOUZA. Sadly, Kuya left the band on August 25, 2001. Luck seemed to be with Kagerou, though, because once again, the bassist position was filled almost immediately by KAZU, who has been with the band ever since.
Lately the band stated (Daisuke had originally mentioned it at their live on September 16th at
LIQUID ROOM ebisu
) on their website that they will disband in January 2007.
Discography
Demo Tapes
Singles
Other Singles
Albums
VHSs
DVDs
External Links